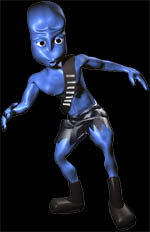 Zorotl is a character (possibly an alien, and since he's blue, could be the same idea of a character in Eiffel 65's song Blue (Da Ba Dee), created by the Bliss Corporation that appears in Eiffel 65's videos "Blue (Da Ba Dee)," "Move Your Body," and "Lucky (In My Life)."
In 2000, the Bliss Corporation made a video for the unreleased Eiffel 65 song "I Wanna Be." The song is credited to Zorotl, even though it was recorded by members of Eiffel 65.
Ad blocker interference detected!
Wikia is a free-to-use site that makes money from advertising. We have a modified experience for viewers using ad blockers

Wikia is not accessible if you've made further modifications. Remove the custom ad blocker rule(s) and the page will load as expected.