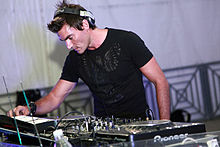 Gabriele "Gabry" Ponte (born Turin, 20 April 1973[1]) is an Italian DJ best known for his membership in the Italian dance group Eiffel 65. Ponte has been involved with the Bliss Team, DJ Gundam, and Sangwara. With Eiffel 65's rise to fame in the late 1990s, his celebrity (or semi-celebrity) status was established, and he later went on to produce the Italian hits "Geordie" (a cover of Fabrizio de André's song by the same name) sung by Italian vocalist Stefania Piovesan as well as hits Time to rock and Got to Get and then "La Danza delle Streghe" (literally "The Dance of the Witches"). Also to his credit are a number of remixes of popular dance songs such as Gianni Togni's Giulia. In 2005, Ponte announced he would be separating from Eiffel 65 to pursue solo work. In 2007 he released a brand new EP, "Love Songs in the Digital Age According to Gabry Ponte" which includes the new track "the Point Of No Return".
Ad blocker interference detected!
Wikia is a free-to-use site that makes money from advertising. We have a modified experience for viewers using ad blockers

Wikia is not accessible if you've made further modifications. Remove the custom ad blocker rule(s) and the page will load as expected.