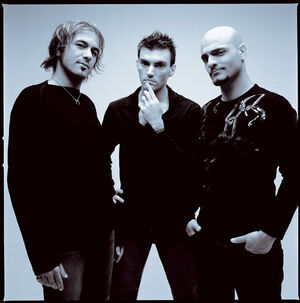 Welcome to Eiffel 65 Wiki

Edit
This wiki is all about Eiffel 65, the best band in history.
About Eiffel 65
Edit
Eiffel 65 is an Italian dance music group consisting of Jeffrey Jey, Maurizio Lobina, and Gabry Ponte. They are best known for their hit Blue (Da Ba Dee). Their other hits include Move Your Body and Too Much of Heaven. All these three singles were included on their 1999 debut album Europop.
Later in 2001, they released their second album Contact!, which produced the hit "Lucky (In My Life)." They released their third album, Eiffel 65, in 2003. It produced the hit "Viaggia Insieme a Me."
In 2005, Gabry Ponte left the group to pursue a solo career, leaving Jeffrey Jey and Maurizio Lobina to form Bloom 06.
Latest activity
Edit