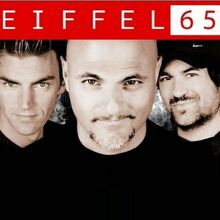 Eiffel 65 is an Italian trio formed in the late 1990s.
Prior to Eiffel 65, lead singer Jeffrey Jey was previously the lead singer of Bliss Team, along with Roberto Molinaro. By the end of 1997, the Bliss Corporation wanted Jey and Molinaro to split and have them start on other projects. Molinaro went on to become a successful DJ, and Jey formed Eiffel 65 with Maury Lobina and Gabry Ponte.
Eiffel 65 are best known for their international hit single "Blue (Da Ba Dee)."
In March 2005, Ponte left the group to pursue a solo career, leaving Jey and Lobina to form Bloom 06. Bloom 06's first release was Crash Test 01, which was originally to be Eiffel 65's fourth album, under the title Crash Test.
In June 2010, Bloom 06 announced the reformation of Eiffel 65, and they currently recording a new album.
Discography
Edit
Ad blocker interference detected!
Wikia is a free-to-use site that makes money from advertising. We have a modified experience for viewers using ad blockers

Wikia is not accessible if you've made further modifications. Remove the custom ad blocker rule(s) and the page will load as expected.