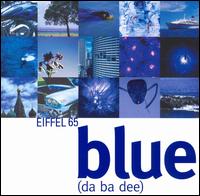 "Blue (Da Ba Dee)" (also known as "I'm Blue") is the debut single of Eiffel 65 released in 1999. It is the first single from their album Europop.
The single proved to be a smash hit for the group, reaching Number One in many countries. Also, it is currently their only entry on the Billboard Hot 100 chart, reaching #6.
The song "Sugar" by Flo Rida contained a sample of this song.
Ad blocker interference detected!
Wikia is a free-to-use site that makes money from advertising. We have a modified experience for viewers using ad blockers

Wikia is not accessible if you've made further modifications. Remove the custom ad blocker rule(s) and the page will load as expected.