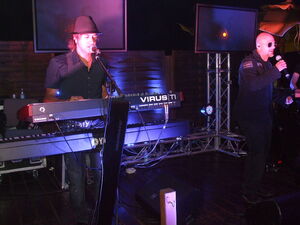 Bloom 06 is an Italian duo formed in 2006, after Eiffel 65 member Gabry Ponte left the group.
Prior to Bloom 06, members Jeffrey Jey and Maury Lobina were members of Eiffel 65, along with Ponte. Ponte left the group in 2005 to pursue a solo career. Jey and Lobina left Bliss Corporation to continue on their own production company. Since the name Eiffel 65 was a property of Bliss Corporation, they decided to continue under a different name, Bloom 06.
On June 17, 2010, Bloom 06 announced on their official website that Eiffel 65 would reunite for production of a new album.
Discography
Edit
Music Videos
Edit
Ad blocker interference detected!
Wikia is a free-to-use site that makes money from advertising. We have a modified experience for viewers using ad blockers

Wikia is not accessible if you've made further modifications. Remove the custom ad blocker rule(s) and the page will load as expected.